All-in-one business solution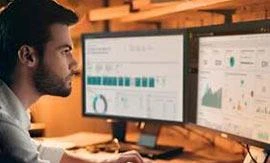 Business Intelligence
Business apps of the future
Business relevant news
Business Central 23 2023 release wave 2
Get an overview of the new features in Business Central 23
In October, a new version of Dynamics 365 Business Central will be released, this time with version number 23. In Business Central 23, Microsoft has, among other things, improved the AI function Copilot, optimized the integration to Power Platform, added new supply chain functions, optimized performance and more.
Read much more about Business Central 23 which will be released with Dynamics 365 2023 release wave 2.
Nordic Microsoft Dynamics 365 partner
Take part in our experience and expertise
Active Business Solutions is a Nordic Microsoft consulting house with locations in Norway and Denmark. We focus on long-term customer relationships and when you work with us, you are engaged with experienced consultants who focus on creating results and adding value to your company. This is your guarantee that you will always get the best possible expertise and advice.
Long experience and high expertise means that we take on the most demanding development tasks with Business Central (former Dynamics NAV) and we naturally always take responsibility for our part in the projects we are involved in.
"With us, you are sure to achieve results. It is a crucial factor that we can add value to your business."
Managing Director
Jesper Messerschmidt
We are Microsoft Dynamics 365 Business Central specialists and have extensive experience with projects which includes:
Implementation
Development
Upgrading
Dynamics 365 Business Central
The intelligent enterprise applications that make up Dynamics 365 help you run your business and deliver better results through far-sighted, AI-based insights. Discover, for example, how Dynamics 365 Business Central can transform the way you run your business and help your business achieve results.
Business Central is a complete ERP solution that provides all the functionality you need to run and manage your business. The solution combines business areas such as finance, operations, sales and service in a single cloud solution and also optimizes the company's operations through automation and process improvements that create smoother workflows. Business Central gives you both a flexible and comprehensive ERP solution that is easy to adapt to new demands and changes.
Microsoft Business Solutions
Get the most out of your data with Microsoft business solutions.
Microsoft business solutions help your business become digital and data-driven through a wide range of applications, ranging from intelligent systems to predictive analytics tools and machine learning.
Business Central Business Functionality
Why use Business Central
Wide range of functionality
Extend the functionality with Extensions
Insight into data and overview of your business
You get a flexible financial system
Built-in integration with other business apps, including Power BI
Extensive business management functionality
Dynamics 365 Business Central is an all-in-one business solution that provides all the functionality you need to manage and connect business areas such as sales, finance and operations, service, inventory management and supply chain (SCM) and project management. The solution also delivers alle the flexibility, efficiency and knowledge required to run your business efficiently and provide optimal service to your customers.
Experienced Business Central consultants
What Our Customers Say About Us
Reliable and committed business partner
Active Business Solutions has solved a wide range of different tasks for several companies, large and small, which belong to completely different industries.
Read here with the words of our customers why Active Business Solutions are the industry's best Business Central partner.
Here you can read what our customers say about us.
"The cooperation with Active Solution has been a success"
"Active Business Solutions provides a top professional service"
"We've got a less time-consuming and simpler workflow"
Your
Challenge.
Our
Passion
Nordic Business Central / Dynamics NAV partner