Dynamics NAV by subscription
It has become easier and cheaper to use Dynamics NAV. Active Business Solutions has launched the ERP system as a package deal. So move your Dynamics NAV solution to the cloud and let us handle the management!
Limited by your existing financial system?
Has your business outgrown your current ERP system and is therefore limited in its future development and growth? Then we have the solution with our Dynamics NAV package deal.
What is the advantage of Dynamics NAV package deal?
With Dynamics NAV as a package deal, you get a finance solution that provides space for the company to grow and where you don't have to worry about server management and data backup. You only pay the monthly payment per. user. In other words, we take care of the technical operation, so you can focus on your business.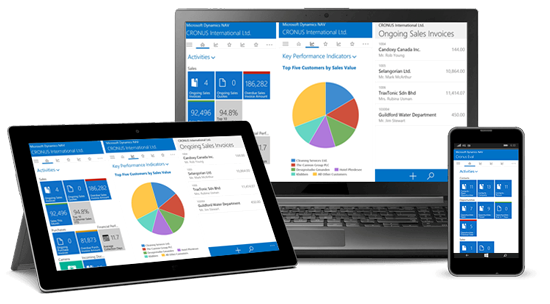 Dynamics NAV as a subscription solution
By renting Dynamics NAV on a subscription basis, you avoid having to invest in your own servers or for that matter having to maintain them. You are also assured that your accounting system is always running and that you always have access to your company data. As long as you are online, you have access to your accounting system.
With our package deal, you pay an ongoing monthly rent for your financial solution and therefore know your fixed costs, month by month. Therefore, if you choose to let us operate your Dynamics NAV solution you get both an overview of your costs and avoid inconvenience of operating the system.
Microsoft Azure
Azure is Microsoft's cloud-based infrastructure and platform solution. On Azure it is simple, fast and inexpensive to implement and manage a Dynamics NAV solution.
With your Dynamics NAV solution placed on Azure you are assured a reliable cloud environment where your accounting system is always up and running and secured.
Power BI
In the Dynamics NAV subscription solution the analysis tool Power BI is included. In Power BI you can through the visual dashboards monitor your company's data, also from mobile devices.
Dynamics CRM
Microsoft Dynamics CRM is a customer-focused Customer Relationship Management (CRM) tool for specialized customer care. With a CRM system you get a full overview of all sales and marketing activities in your business.
Customizations
In our package deal includes a standard Dynamics NAV 2017 solution, but if you special industry-specific adaptations or additional modules, we also offer this.