Dynamics 365
Microsoft Dynamics 365 is the overall common name for a number of business applications that provide functionality for handling key processes in, for example, finance, sales, customer service and marketing. With Dynamics 365, you will experience how data and intelligence are not only in focus, but also the driving forces behind the business applications.
Succeed with the D365 business apps
Choose one, some or all. The Dynamics 365 applications work together seamlessly in a comprehensive solution that runs the entire business, including sales, marketing, service, operations and commerce. You get a 360-degree view of your organization so you can gain the real-time insight that provides better results.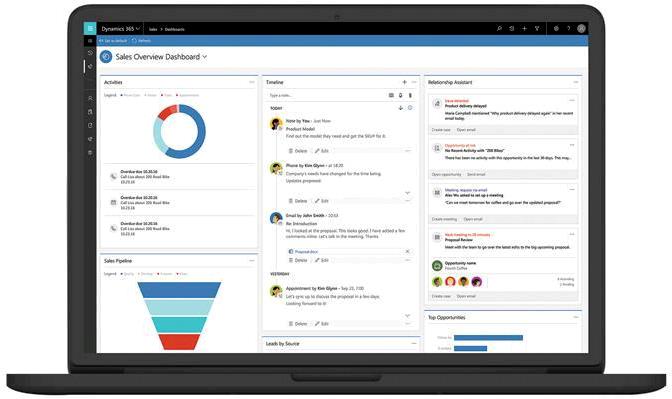 Dynamics 365 is the future generation of business applications
Insight into the company's processes
The business applications that make up Dynamics 365 give you insight into your company's processes and enable you to make smarter decisions based on knowledge rather than intuition. Establish operational strategies and actions that boost your business and create growth in your business.
The Dynamics 365 applications cover business areas such as:
Sales - Win more orders
With the sales applications in Dynamics 365, you get the opportunity to track, build and develop stronger relationships with your customers. The apps also improve your sales productivity and the performance of your sales operations and then the solutions deliver a simple and clear view of your customers.
Marketing - Increase customer demand
Dynamics 365 helps you to find the right leads, as well as to maintain and nurture them afterwards. The apps also allow you to create contextual experiences for your customers and to be at the forefront of the latest trends in the market in which you operate.
Service - Exceed your customers' expectations
Take advantage of cutting-edge technology to optimize your service resources and to help your technicians work more efficiently. The Dynamics 365 applications also help you create streamlined workflows, thus reducing your operating costs. This way, with Dynamics 365, you can give your customers positive experiences faster.
Finance - Accelerates the growth of your business
With Dynamics 365, you get the opportunity to transform and optimize the company's current financial management and streamline financial administration by automating a wide range of work processes. By working smarter, you also reduce your operating expenses and the overall financial complexity.
Operation - Automate company operations
Go from an operational control, where an event is only responded to when it has occurred (reactive operation), to a predictive operations management, where action is taken in advance (predictive operation). Dynamics 365 also contributes to increased automation of your operations, and also makes the management of your production and supply chain more streamlined and simple. Improved operations also help maximize the lifespan of your assets.
Commerce - Achieve seamless shopping experiences
Deliver a consistent, personal and seamless shopping experiences that exceed your customers' expectations. Dynamics 365 also helps you reconcile physical and digital commerce and build brand loyalty through personal engagement with your customers.
HR - Achieve stronger HR administration
Streamline your HR management, spend less time managing your workforce, gain insight through data and create a better workplace for your employees. The HR apps in Dynamics 365 help you optimize your staffing processes and programs and also offer self-service experiences.
The business applications of the future
Get the most out of your data by connecting customers, products, people and operations. Dynamics 365 contributes to making the best possible use of the company's potential.
By combining intelligent technology and data, Dynamics 365 delivers a range of applications that enable you to better engage your customers, develop products, better equip your employees to perform their tasks and optimize business operations.
Dynamics 365 can thus, by using data and intelligence, help to promote the digital transformation in your company.
Read more about the benefits of Dynamics 365
Dynamics 365 Business Central
A part of Dynamics 365 is the ERP solution Business Central. Business Central delivers everything you need to run and connect your business across departments. The solution therefore gives you tools that enable you to make smarter decisions based on data.
With Business Central you get much more than just basic accounting. Dynamics 365 Business Central is a complete solution for handling and administrating all aspects of the daily operations in your business.
With Business Central you get an ERP solution with an intuitive user interface that is easy to use and can be adapted to the individual employee.
The solution's functionality covers all relevant areas such as finance management, production and operations and allows you to optimize sales opportunities as well as delivering better customer service.
Read more about Dynamics 365 Business Central
Dynamics 365 Sales (CRM)
Improve your relationship with your existing customers and create new and valuable customer relationships. Dynamics 365 Sales (CRM) helps to increase understanding of both your current and potential customers' needs, and streamline and enhance communication with them.
Dynamics 365 Sales (CRM) provides transparency and visibility through automation of the sales force. Your salespeople get an in-depth insight into your customers and thereby become better able to meet their expectations and wishes.
The right combination of state-of-the-art technology, automation and well-known sales tools streamlines the business's sales process and supports your salespeople's work.
The innovative sales solutions in Dynamics 365 Sales can be scaled and customized. They can also be connected to other applications and services that you already use.
Read more about Dynamics 365 Sales
FAQ relating to Dynamics 365
What is Dynamics 365?
Microsoft Dynamics 365 is the general term for a range of intelligent enterprise applications developed by Microsoft.
What does Dynamics 365 contain in terms of functionality?
Dynamics 365 consists of a large number of CRM and ERP applications and provides functionality in business areas such as finance, SCM, sales, marketing, service, finance, operations, trade, HR.
How much does Dynamics 365 cost?
The price level varies widely and it all depends on which apps you need and how many. In addition, the price level also depends on how you choose to license the individual application.
Is Power BI part of Dynamics 365?
No, Power BI, along with PowerApps, Microsoft Flow, and Power Virtual Agents, is part of the Power Platform application platform.