Power Platform
Companies have, more than ever, realized the value of using the vast amount of data they have gathered to gain insight into their business and create better business results and thus a more competitive business.
Develop the business using data
Many companies have embraced the cloud and have discovered the value of utilizing data from a wide range of sources such as web traffic, social media and business systems such as CRM / ERP applications. But when the infrastructure, whose purpose is to utilize the great deal of data, the question is how to handle the much data in the most efficient way and get the most out of it?
If it is to be possible for all employees in the company, regardless of their technical ability, to utilize data in a straightforward way that helps to run the business, a layer on top of this data is needed.
In short, this is what the Power Platform is.
Power Platform is a system that allows users to perform three key actions on data: Analyze, act and automate. This is done with Power BI, PowerApps and Microsoft Flow. The three applications all work on top of your data and help all employees, from the CEO to the ordinary employee, to drive and develop the business using data.
Analyze, act and automate
Data is increasingly flowing from everything and from anywhere, and businesses that understand how to exploit the much-gathered data to gain insight into their business will create better business results and thus a more competitive business that will outcompete companies that do not have this understanding. The problem for companies, however, may be finding experts who have the necessary technical skills to establish the necessary infrastructure.
The goal of Power Platform is to build a platform that does not aim at technological experts, but instead the ordinary employee, who in many cases sees opportunities in the vast amounts of data to create improvements, but do not have the technical ability or are authorized to use this knowledge and do something about it.
The purpose of the Power Platform is to create a course, or loop, that allows users to:
Gain insight into their data (Analyze)
Use this insight to drive intelligent business processes through apps (Act)
Automate the Processes (Automate)
Microsoft's Power Platform
Microsoft Power Platform implements and completes the three steps through three the Microsoft business applications: Power BI, PowerApps and Flow.
Microsoft Power BI
Power BI is a user-friendly business intelligence solution that makes it easy for users to analyze data wherever it comes from and thus gain insight into their company and understanding their business.
Since the launch of Power BI, it has gone fast, both in terms of functionality and number of users. The solution is already implemented in tens of thousands of companies and have millions of users.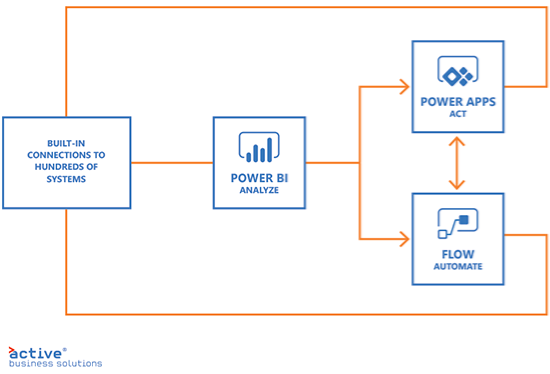 With a Power BI integration to Business Central, you get two business applications that together create an efficient platform that enables you to run and develop your business. Business Central provides ERP functionality that provides an overview of the company's many business areas, Power BI gives you insight into the company's data through Business Intelligence.
Microsoft PowerApps
PowerApps is a development platform from which it is possible to build applications for both web and mobile devices, without having to write code. PowerApps makes it possible for ordinary users who do not necessarily have experience with programming to develop applications that optimize the productivity and maybe even make their work less monotonous.
As with Power BI, PowerApps can be connected to hundreds of business systems and databases. Therefore, it is easy to connect the users with existing processes and data. The data contained in PowerApps can be returned to the systems and further analyzed in Power BI, which creates a closed loop process that makes continuous improvements possible. In addition, PowerApps provides a fully managed enterprise-grade data store called Common Data Service (CDS) for applications that generate data that is not destined for outdated applications, and both Power BI and Flow are strongly connected to CDS, which makes It is much easier to get even more value from the data stored there.
Microsoft Flow
Robotic Process Automation (RPA) technology is currently gaining a lot of attention on the market and for good reason. By automating simple workflows and processes, RPA solutions promise to lower business costs while reducing human factor errors.
Microsoft Flow is an intelligent process automation service which is not limited only to perform simple task automation. Even without a complex IT implementation, Flow enables non-technically savvy users to automate complex business processes and workflows.
The simple and intuitive user interface allows users to create automatic workflows. This can, for example, be based on an insight from Power BI that is delivered via apps developed with PowerApps and integrated with events from any of the systems supported by Power Platform. The workflow is run entirely in the cloud and is fully managed and secured by Microsoft.
The effect of three connected solutions: The Power Platform
Power BI, PowerApps and Flow are each one of the best solutions in each of their individual categories, but by combining the three solutions, Microsoft has created a game changer that can potentially create added value and increased competitiveness for the companies using the solution.
Power BI provides insight into data, PowerApps converts this insight into action through transformative applications and with Flow, the business process is orchestrated and automated with simple point and click functionality.
With the built-in connections to all the systems and data sources in the company and when the individual employee, who knows the company best, gets the opportunity for "analyzing, act and automate", there can potentially be created transformation opportunities and new potentials that would previously be unthinkable without the Power Platform.