AI Builder - Power Platform
AI Builder is an artificial intelligence tool developed by Microsoft and part of Power Platform. Like the other apps that make up the Power Platform, AI Builder is developed with a 'low-code' approach and AI Builder allows users to introduce artificial intelligence into their projects without the need for coding expertise.
---
Content menu
---
Optimize processes with AI
AI Builder is a capability in Microsoft Power Platform that delivers AI models designed to optimize your company's business processes.
With AI Builder, you both get the opportunity to use intelligence to automate a large number of the company's processes and gain business insight from your data in Power Automate and Power Apps. And with AI Builder you don't need coding or data science skills to access the power and enormous potential of AI, with AI Builder AI technology becomes accessible to everyone. AI Builder lets you build custom models tailored to your unique business needs, or you can choose a pre-built model that's already ready to use for a wide variety of common concrete business scenarios.
Why AI Builder
Easy creation
With step-by-step guides and simple administration and management, all employees, regardless of their level of developer and IT skills, can develop and manage AI models
Easy to connect
With a library of more than 500 connectors, including for Microsoft 365 and Dynamics 365, AI Builder makes it easy to apply AI to your data sources, reducing the time your company's employees spend on development.
Easy to expand
Using the built-in connectors for Azure APIs, with AI Builder your developers get powerful tools to quickly expand their low-code apps
Bring AI intelligence to your business
By integrating AI Builder with Power Apps and Power Automate, it becomes easy for business users to use AI in a business context.
Add artificial intelligence (AI) and optimize your business processes:
Choose AI model type: Use the AI model type that fits the business needs of your company. You can choose from an increasing number of AI solutions.
Connect to your business data: Select your specific business data from the options available.
Adapt your AI model to your business needs: Depending on the chosen model type, you have the option to adapt custom models to optimize the way AI works.
AI Model Training: Training your AI model is an automated process that shows your AI model how to solve your business problem (for example, how to recognize your products in an image) based on business data and customizations. Once your AI model is trained, it can generate insights, such as the result of a prediction or the list of and number of objects that register in an image.
Apply AI model results: Even without coding skills, you can use AI model results across Microsoft Power Platform to create solutions that meet your specific business needs. For example, create a flow in Power Automate that automates document processing, or create an app in Power Apps that can predict whether a supplier can no longer meet the agreed requirements.
AI Builder in Power Apps
By creating custom AI models in Power Apps, you can add artificial intelligence to the apps you build and find valuable insights. With AI Builder in Power Apps you can save both time and money, and AI Builder requires neither expertise in coding nor experience in data science.
Understand and process text
Simplify a wide range of tasks quickly using AI models in AI Builder such as prediction, form processing, object detection, category classification and entity extraction using a simple, intuitive interface.
Detect and recognize objects in images
Using a guided process, pre-developed templates, or by quickly integrating pre-built components directly into your apps, AI Builder lets you easily build, train and publish AI models without requiring you to write so much as a single line of code.
Predict business results
Using either your camera or available images and documents, you can quickly extract text and visual information. Keep the focus on the work that creates the most value for your business by automating trivial, time-consuming manual processes with AI Builder.
Analyze the mood among your customers
Since AI Builder is built on top of Azure AI functions – and pulls your data from Dynamics 365, Microsoft 365 and Microsoft Dataverse, you can train and build code-free AI models, thereby optimizing the intelligence in your business apps.
AI Builder in Power Automate
Use AI Builder to build custom AI models in Power Automate and create intelligent automation and discover insights.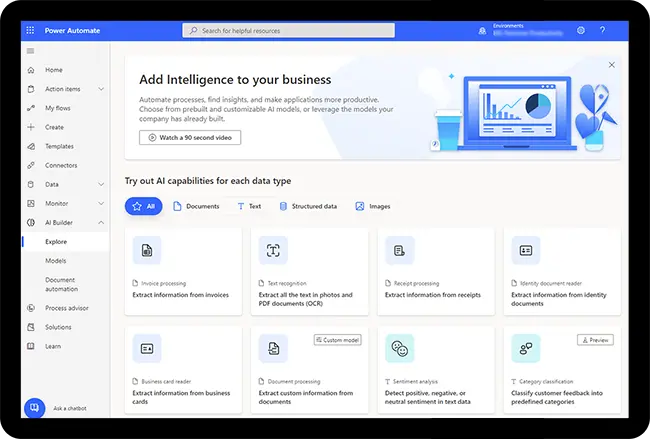 Build stronger automations
With AI Images, you can enhance the automation capabilities of Power Automate using a variety of advanced AI models, including GPT, with Azure OpenAI Service.
Generate text
Speed up the creation of textual content with AI-generated text that is indistinguishable from human-written text based only on a set of instructions. Use the different templates for different use cases, for example creative content and chatbot conversations.
Answers to questions
Save time, and thus valuable resources, by automating the process of answering questions with chatbots that quickly find both accurate and relevant information.
Text summary
With AI Builder, you can improve productivity and efficiency in the business by using summary templates that analyze and classify long documents, emails and text clusters.
AI Builder FAQ
What is AI?
AI or artificial intelligence is an area within computer science where efforts are made to make machines think, that is to say learn new things, make decisions and consider things on the same level as a human. Artificial intelligence, or AI, is when a computer can simulate human thinking and behavior.
What is AI Builder?
AI Builder is part of the Microsoft Power Platform and provides AI models designed to optimize your company's business processes. With AI Builder, you can build custom models that you adapt to your company's unique business needs, or you can get started quickly with a pre-built model that is already ready to use.
Is AI Builder part of Power Platform?
Yes, AI Builder is an AI (artificial intelligence) capability in Microsoft Power Platform that delivers AI models designed to optimize your business processes.