Dynamics 365 Sales functionality
Get a better overview of your customers and potential sales opportunities, and give your salespeople access to additional built-in and context-sensitive insights that can in no time be activated and from where it's easy to make decisions and conduct actions.
---
Improve your sales potential with integrated insights
Show which next step is the best
Give your salespeople integrated insights from Dynamics 365 Sales which is context-dependent and shows which next step is most appropriate in relation to drive the customer relationship forward.
Streamline the company's mail commitment
Show your salespeople when and how their customers communicate through mails. This way, they become both proactive and faster in their communication.
Monitor social trends
Allow your salespeople to gain social insight that can track point of views and opinions from buyers and identify potential competitors.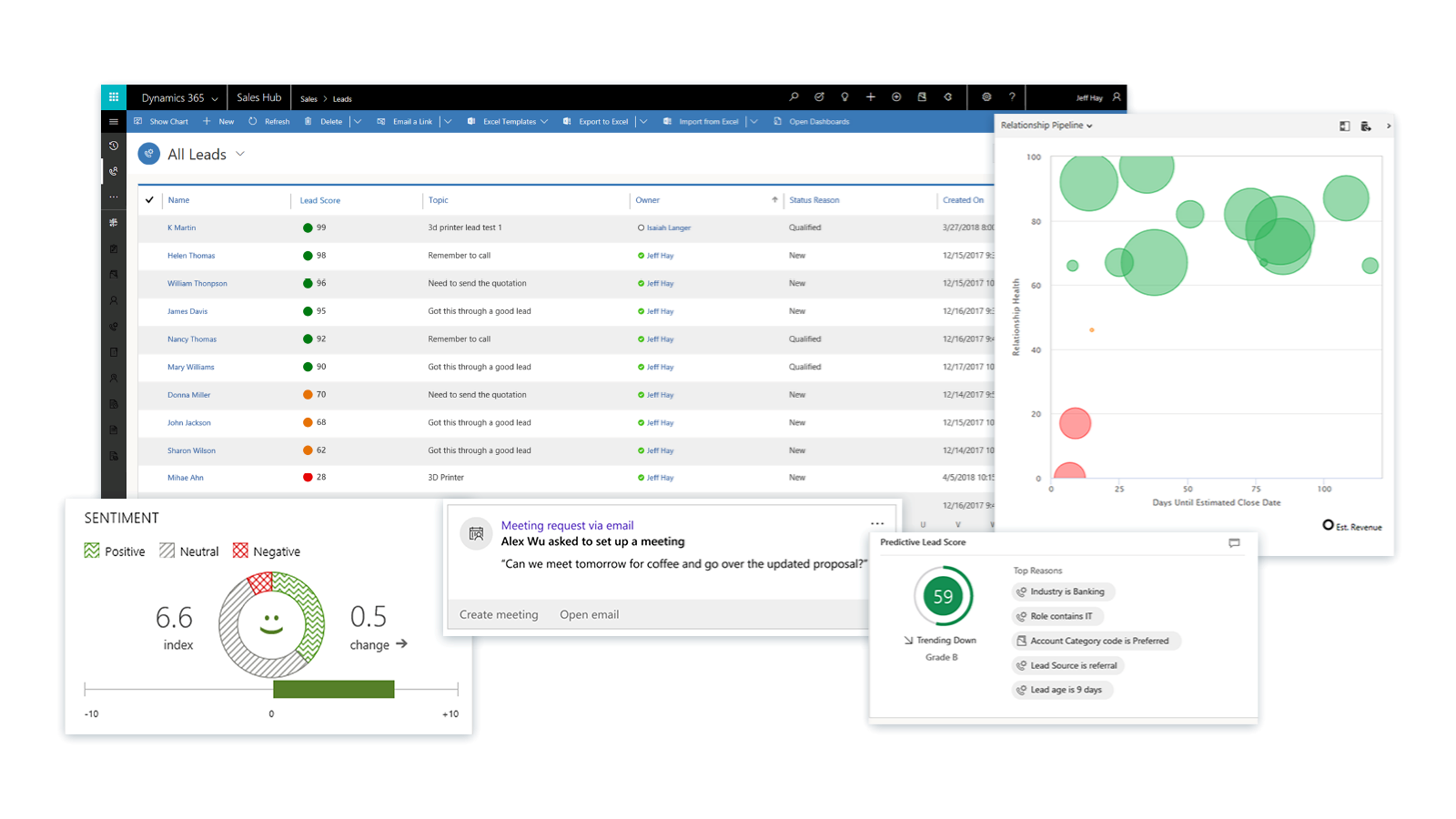 ---
Build customer relationships, consisting of genuine commitment
Connect your data sales processes and provide in this way the possibility for sales through relationships
By unifying relationships and sales processes with integration between LinkedIn Sales Navigator and Dynamics 365 Sales, your salespeople get the valuable insights they need to build up trust while maintaining a greater number of relationships.
Obtain purchase signals on social media
Get a view of which social media conversations that may be relevant for your salespeople to participate in and what content can be shared so that they can get in touch and communicate with potential buyers on social media.
Collaborate and adapt
Allow your team of salespeople to work together with, edit and customize sales documents that have built-in Office 365 tools customized to the way they work together.
---
Increase productivity with sales tools that work smoothly
Deliver intelligent help
Maximize the number of users taking the system into use and minimizing the amount of training. With extensive and context-sensitive help, as well as an intelligent event-driven sales process that drives salespeople to achieve optimal sales results.
Simplify the execution of your sales
The complete and engaging experience of managing your sales opportunities means you have the opportunity to carry out a deal faster. Expand and optimize vendors' productivity, for example, through the already well-known tools Excel and Outlook that work smoothly with the Dynamics 365 Sales capabilities.
Keep sellers updated
Expand the effectiveness of your business sales activity by providing your salespeople with display of companies, contacts and potential customers which include context-based third-party company demographics, news and related events for B2B and B2C buyers.
Increase sales anytime and anywhere
Mobile apps delivers contextual news, data from social media and assignments, which together extend and improve the usability of Dynamics 365 Sales. But even without being connected, modern mobile applications can improve the working conditions of the sellers on the move.
Closer contact with your business partners
By creating more opportunities and activity, the collaboration with the company's business partners is strengthened. With Dynamics 365 you can give your partners a quick overview of the interactions that goes across opportunities for sales, cases and other relevant information.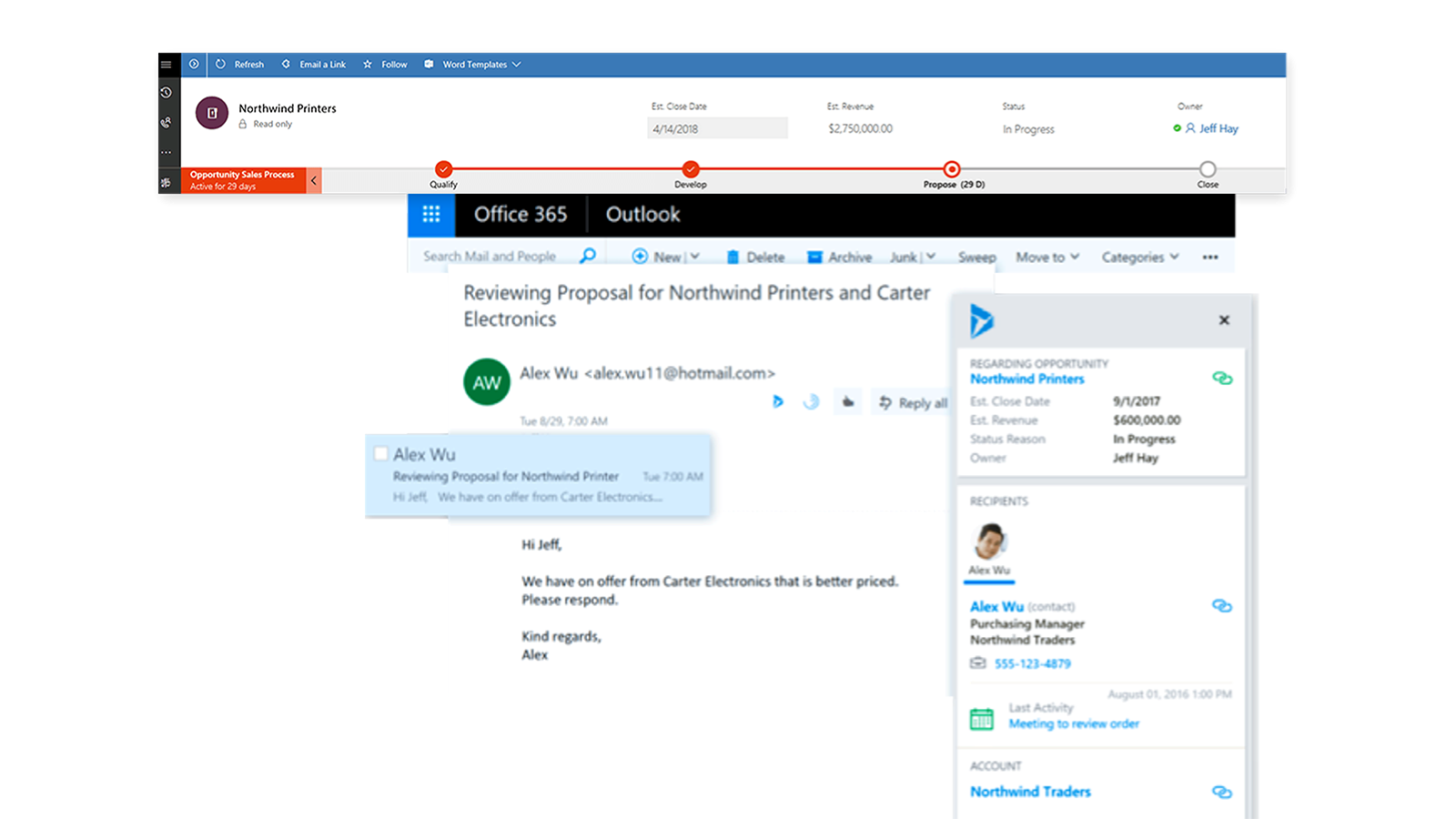 ---
Optimize sales results
Shorten the start-up phase for new sellers
Make it easier for new salespeople to start up in your company. Customize the sales behavior with efficient and interactive help and documentation functionality from Dynamics 365 Sales.
Increase the efficiency of the sales process
Reach your goals by defining your sales goals, monitoring your sales results and delivering feedback and guidance on time. Explore deviations from the original plan and make ongoing real-time corrections through the analytical dashboards in Dynamics 365.
Visibility and insight
Transform unmanageable data into valuable insight in Dynamics 365 Sales by using dashboards that are updated in real-time and feature interactive drilldown and queries in a natural programming language.
Increase motivation among your salespeople
Spark motivation and enthusiasm among your salespeople by arranging fun and engaging team-based sales contests. A unique gaming solution that adds game elements and thereby increases the awareness of the sales results which helps keep your sales team motivated and thus improve the results.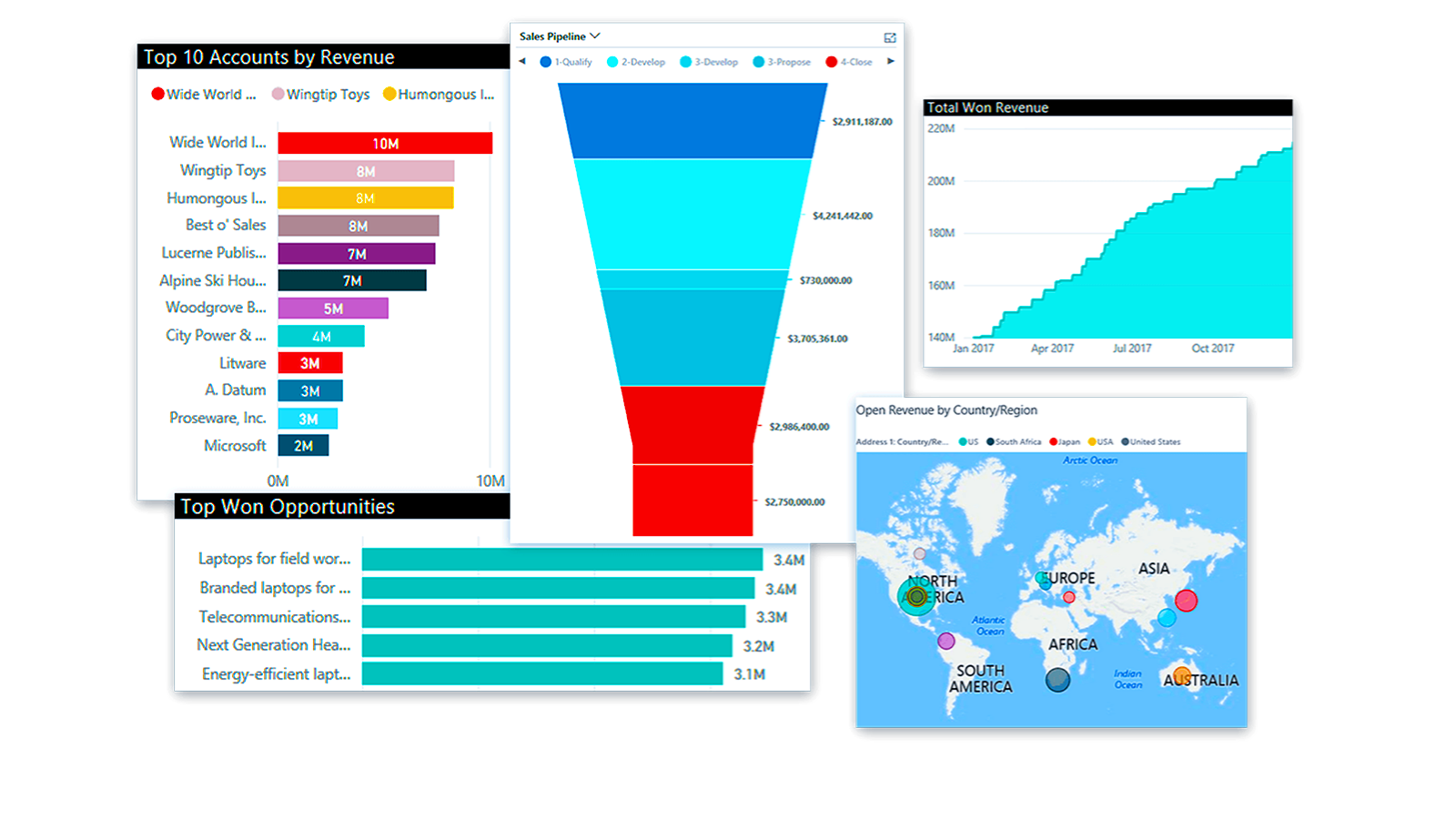 ---
Solutions that are made for development
Fast adaptation
Speed up the time it takes for your product to reach the market (time-to-market) and customize easily and without the need for coding the application so it fits your needs and with tools that make it easy to develop and deploy applications for both web and mobile.
Expand and create the connection
Automate sales processes in just one single experience across the Dynamics 365 applications and partner systems.
Safe investment
You can with confidence let Microsoft's advanced data centers protect your company's data and use the cloud platform to reduce costs and decrease the complexity of running your company's IT infrastructure.
Induce innovation
From the built-in intelligence of Dynamics 365 Sales, it is possible to transform customer interactions into detailed insights that point your sales teams in the right direction and lead them towards the desired business outcomes.