Business Central –the best Cloud ERP app?
Expectations for Dynamics 365 Business Central were and are still very high and the upcoming inclusion of Dynamics NAV, which becomes the on-premise part of Business Central, does not diminish expectations of Microsoft's new ERP application.
Migration
Twenty years ago, just around the turn of the millennium, Microsoft acquired Dynamics GP and Dynamics NAV, the two solutions were then known as Great Plains and Navision. The acquisition made Microsoft one of the leading suppliers in the ERP market for medium-sized companies in the US and Europe.
ERP on-premise, host your own software
However, despite their differences, Dynamics GP and Dynamics NAV have in common, that they are both on-premise solutions. To run your software applications on-premise requires that you have a dedicated server for the ERP application database and that the users has their application or client installed on their own workstation. There are several variation options, but regardless of setup, it still requires a dedicated server for the database and a server for the application software. On-premise ERP software also means that you purchase your software and thus own it. Typically, you also pay a running maintenance fee that allows you to upgrade the software with ongoing updates or when a newer version is released.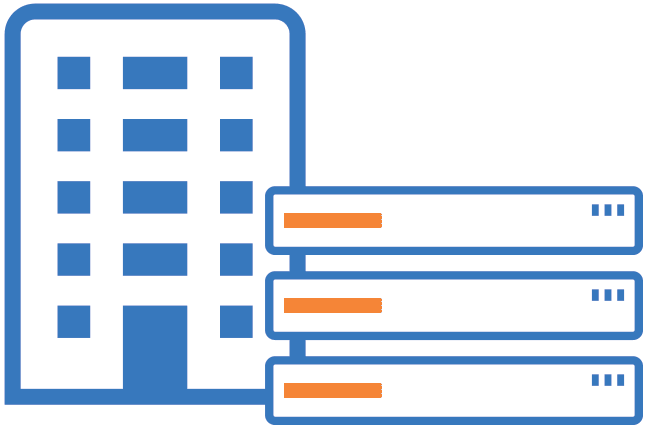 This way of implementing and use business software was until about 10-15 years ago the most common, but up through the 00s there was a gradual change. It became more and more common to place the software 'out of the house', which means on a leased server. The advantage of this model is that by running your software externally, you can achieve significant cost savings due to reduced staff, maintenance, power consumption, etc.However, there are still companies that stick to the traditional on-premise model. The reason may be risk factors due to lack of access to its services through internet breakdowns, privacy issues, data security risks, supplier insolvency or other factors.
ERP in the cloud, rent your application on a subscription basis
Since the merger of Great Plains and Navision a new trend in the ERP world has rapidly begun to spread, 'Cloud ERP'. 'Cloud' means in this context that the ERP application is located in the cloud and therefore runs from the user's favorite browser, such as Google Chrome, Microsoft Internet Explorer or Firefox. In short, just enter the URL of the cloud program and then log in to the ERP application. This means that the company do not have to invest in expensive hardware, but it also means that it don't have to maintain the hardware as well as the software required to run an ERP application. In addition, the company does not own the ERP software but rents access to the application on a monthly subscription basis for the number of users needed. This means that the company can quickly scale up or down of the number of users depending on the needs of the company. This software license and delivery model is called 'SaaS' (Software as a Service), meaning that the software is licensed on a subscription basis and centrally hosted.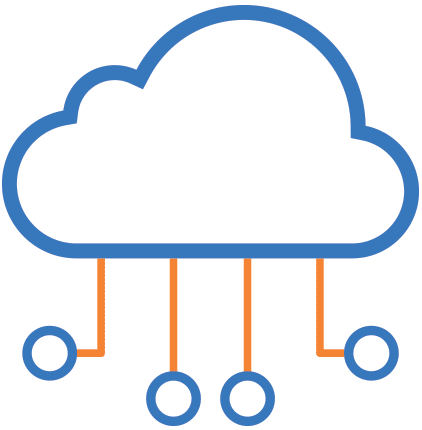 Total IT Platform - all you need in one package in the cloud
Active Business Solutions also offers a subscription model for Dynamics NAV, the ERP solution is part of our 'all-in-one' business IT platform that includes everything you need to run your business, and it all is located on one platform in the cloud, more specifically on Microsoft's cloud environment and infrastructure Azure. In addition to the latest version of Navision, NAV 2018, the package also includes Office 365, the Business Intelligence application Power BI, mail client, file sharing, etc. In short, the package includes everything you need to run a modern business.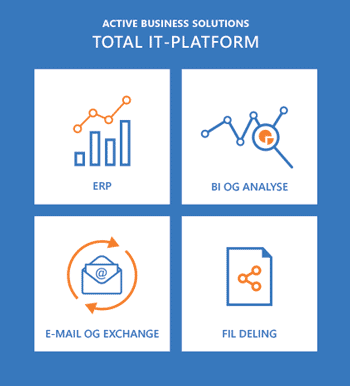 We call the package ABS Total IT Platform and you can read more about here.
Business Central, Microsoft's ERP application in the cloud
Until this year, Microsoft has not had their own take on a cloud ERP solution. However, Microsoft has a comprehensive and impressive portfolio of ERP solutions, Dynamics NAV, Dynamics AX, Dynamics C5, Dynamics SL, Dynamics GP, and has long worked to combine them in a single solution. However, this ambition has not been welcomed by users of their software, who would be left with a brand new software and the inconvenience and difficulties it would cause. Replacing the ERP system can lead to a massive investment for a company. Therefore, by the end of 2017, Microsoft decided that their future cloud ERP application would be based on Dynamics NAV's code base. At the end of April 2018, they launched this cloud application under the name Dynamics 365 Business Central. It's Microsoft's first real SaaS ERP application, which means it can only be purchased on a subscription basis and that it is driven exclusively in the cloud, at least until October this year, where Dynamics NAV will be included as the on-premise part of Business Central. Therefore, there will be not be, as we have been used to, a new version of Dynamics NAV at the end of the year and those who had been waiting for a Dynamics NAV 2019, must instead get used to the new name, Dynamics 365 Business Central (abbreviated D365 BC), as the brand name 'Dynamics NAV' apparently, and according to Microsoft's own roadmap for Dynamics NAV, will no longer be updated with new versions.
On-cloud, on-premise or a combination of the two
This means that from October, Business Central can be used both on-cloud, on-premise and as a hybrid, that is, a combination of the two and means you will also be able to use your existing Dynamics NAV on-premise solution as a hybrid model, where the solution will be connected to the cloud via Business Central. Whichever model you choose, your data can be replicated in the cloud and it will be a painless transition, as soon as you decide to no longer run on-premise and will only continue in the cloud through the SaaS model. However, it is important to keep in mind that in such a case, all your adjustments must be based on Extensions. If you have modifications in the basic code, you must temporarily disconnect the solution from the cloud. Once the code is rewritten to Extensions, the solution can be re-connected.
Rich in functionality
Microsoft's decision to use the basic code from one of their existing ERP applications, the one considered by some to be the strongest of them all, means, that (almost) all the functionality you get with the latest version of Dynamics NAV, NAV 2018, now also is available in the new cloud application. This alone makes Business Central a highly competitive solution in the market for cloud ERP applications. With highly efficient functionality in specialized areas such as production, warehouse and inventory management, logistics, project management, etc., one can argue, that Dynamics 365 Business Central is already superior to its competitors and does indeed have the potential to become the leading cloud ERP application on the market.